Happy 21 Years of Axis(web)
21Nov12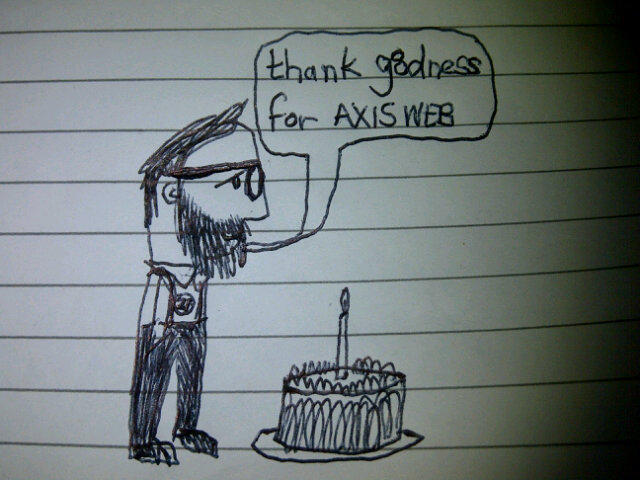 Axis is 21 today, so I sent them this drawing just to wish
them a happy birthday.
On 21 November 2012, Axisweb turns 21. We're in a reflective mood so are celebrating (along with cake and party games) with a rummage around our archive to bring you 21 highlights from the last 21 years of our existence. Members of the Axisweb team have chosen their favourite things.
Not everything has come from the vaults however. We've also commissioned new writing from Teresa Gleadowe, Zoe Pilger and Mark Robinson, as well as a cartoon from artist David Sherry. Did you know we're descended from bears? No, we didn't either!
So have a dig around – you're sure to find something to enjoy here.
Visit axisweb.org to see even more and sign up to receive our regular e-bulletins and keep up-to-date with Axisweb news.
Related articles
Filed under: Uncategorized
|
1

Comment
Tags:
21 November 2012
,
artists
,
Axisweb
,
Birthday
,
Cartesian coordinate system
,
David Sherry
,
Games
,
Leeds
,
Mark Robinson
,
Recreation
,
sheila macgregor
,
sheila mcgregor
,
Shopping
,
Teresa Gleadowe
,
Zoe Pilger
---
---
Look for stuff here

Other stuff on this site

Top 5 most popular stuff

Our links

Print Centre Projects

Reviews

Meta

Archives

Recent Comments