Beth sy'n Digwydd yn Wrecsam dros y Penwythnos / What's on in Wrexham over the Weekend
24Apr13
This weekend is Focus Wales weekend in Wrexham, a four day music festival and conference held at multiple venues across the town. The festival showcases live performances by some of the best Welsh bands and international acts, alongside music industry panels and discussions. This is its 3rd year.
So, you arrive in Wrexham on Friday night and you're booked into the Ramada or the Groves Guest House, or the Wynnstay Arms Hotel, you could go and see Camera in St Giles Church, you might catch We Are Animal at South Central before grabbing the Roseville Band, Gulp and Man Without Country at Central Station, which should take you through into the wee small hours.
On Saturday morning, after a later than anticipated start, you could have a mooch around the many markets and arcades that Wrexham has to offer.

After a bite to eat at Pizza Express on Eagles Meadow or Thai noodles at the Noodle Bar round near Tescos, head for The Museum. Along the way see if you can spot any of the Yarn Bombing that's currently taking place and have a look into the Methodist Church window to see work by young local artists. At 1pm Michael Rother, one of the founder members of Kraftwerk and formerly of Neu and Harmonia, will be in conversation. Then it's time to see Oriel Wrecsam, the visual and applied arts gallery to see the latest exhibition. Print International was selected by Professor David Ferry and features some of the most exciting work by artists working in printmaking. You'll see work by Wales' representative at the Venice Biennale, Bedwyr
Williams. You might also see the pop-up exhibition curated by Jo Marsh; here|there|everywhere. This features emerging artists from around the UK. So after you've bought some Welsh souvenirs in the siop/shop head back to the museum to see Golden Fable perform at 5.15.
So then you've got Michael Rother on in the evening at Central Station followed by a free aftershow at Saith Seren, featuring Cowbois Rhos Botwnnog at 11.10.
On Sunday, you could need a bit of fresh air. Why not head down to the World Heritage Site at Pontcysyllte to get a bit of a rush. There are walks along the 11 mile site which could lead you to Llangollen along the canal and then get a bus back to Trevor to pick up the car. (Check Traveline Cymru journey planner for timetables on this route. Look for bus services 5 or X94)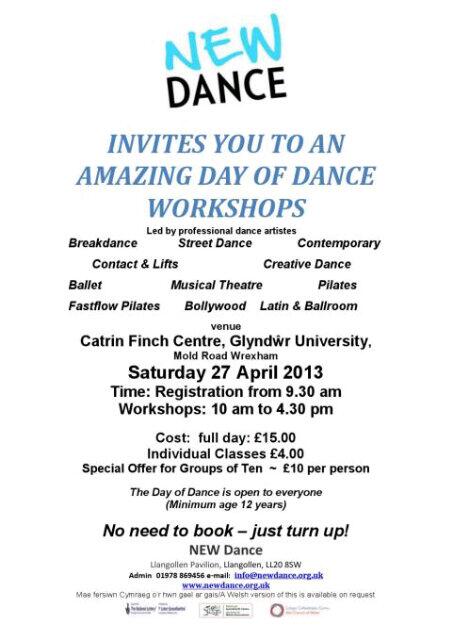 An alternative weekend could be to arrive in Wrexham on Saturday morning and take part in a £4 dance session as part of NEW Dance's Day of Dance at Glyndwr University.
Call in at Oriel Wrecsam to see Print International and the applied arts showcases. One of them features a small selection of work by Lucy Harvey, but more of that later. In the afternoon you could drive over to Chirk and have a walk over one of the two aqueducts we have in the county, check out the Eric Gill war memorial in the village centre and possibly head up the Ceiriog Valley to Llanarmon Dyffryn Ceiriog where you'll probably discover a Gŵyl or Festival taking place from 1pm.  It'll give you an opportunity i ymarfer Gymraeg (to practice Welsh) in one of the most remote and beautiful parts of the county. (For more information contact Rhian on 01352 744040 or via e-mail)  Stop off for lunch at the local restaurant. Head back into the car and head for Llangollen in the next county, Denbighshire. At the foot of the Horseshoe Pass you'll discover Valle Crucis, currently home to the first CADW/Arts Council Wales applied arts residencies, Lucy Harvey. Lucy is working on site and you can follow her work so far on her blog. Maybe have a cup of coffee in Llangollen later on at Fouzi's on the bridge or maybe the Cornmill. Check out the Vintage Shop on the back lane down by the River Dee.
I would recommend a stay in Llangollen at the recently opened Manorhaus, fine cuisine and Melin Tregwynt throughout, the excellent restaurant with rooms has a black and white theme throughout, maybe because of the nearby home of the Ladies of Llangollen, and features original photography by Welsh artists in all rooms. On Sunday, maybe after a lie-in or a soak in the only outdoor hot-tub in Wales to have a view of Castell Dinas Bran, I would walk along the canal towards Trevor or take a drive up to the Trevor Basin and have a boat trip over Pontcysyllte, taking in the stunning views from the dizzyingly high canal in the sky.
So, as you can see, there's plenty to do in Wrexham County over a weekend.

Filed under: Uncategorized
|
1

Comment
Tags:
Arts
,
Arts Council
,
Bedwyr Williams
,
Cadw
,
canal
,
Castell Dinas Bran
,
Ceiriog Valley
,
Cowbois Rhos Botwnnog
,
creative international
,
culture
,
day out
,
days out
,
Eagles Meadow
,
FOCUS Wales
,
heritage
,
Llangollen
,
manorhaus
,
Michael Rother
,
oriel wrecsam
,
print international
,
Tesco
,
this project
,
Trevor Basin
,
trip
,
valle crucis
,
venice biennale
,
Wales
,
welsh
,
wrecsam
,
wrexham
,
Wrexham F.C.
---
---
Look for stuff here

Other stuff on this site

Top 5 most popular stuff

Our links

Print Centre Projects

Reviews

Meta

Archives

Recent Comments